Issues can arise with equipment, software, and technology at unpredictable and inconvenient times throughout the day or night. With Axis Engineering Group's 24/7 emergency service, you can count on assistance 24 hours a day, seven days a week. If you discover a problem overnight or early in the morning, Axis will be available to help without waiting until regular business hours.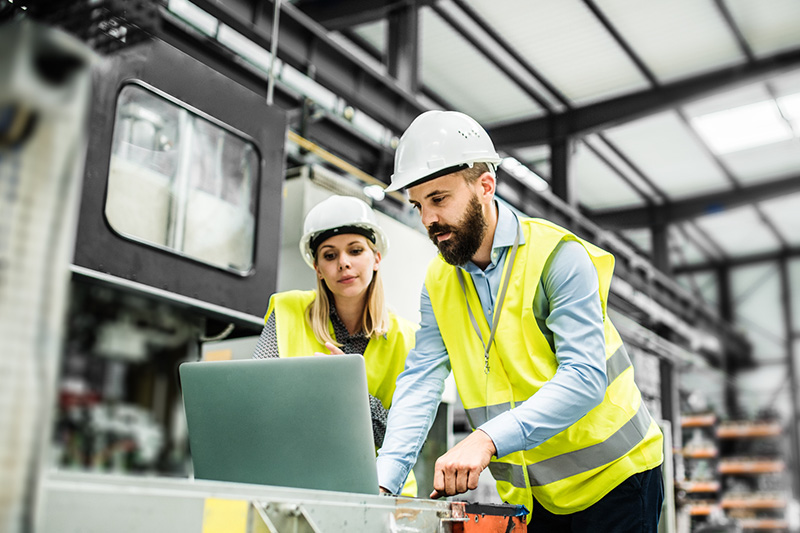 Axis Engineering Group has a multi-step method for any emergency service scenario we encounter:
We investigate the situation to determine when the system was last working properly.
Through discussions with operators, maintenance and management, we determine what actions, whether service or maintenance, were taken leading up to the problem.
Some situations may require a straightforward solution or a simple fix. Others are more involved, requiring consideration of downtime requirements, labor and equipment costs, plant and staffing schedules, and production needs. Because of this, our team collaborates with you to present safe, available, quick, effective solutions.
Once operation resumes, we provide recommendations/feedback on ways to minimize vulnerability to further downtime and loss of production. These solutions may include hardware or software improvements, staff training opportunities or just recommended spare parts.
At the end of each emergency service call, we provide a completed Emergency Service Report for your records. Tracking downtime and service calls can help collect the data needed to prioritize plant improvements.
TIME IS MONEY. With our 24/7 service, we can begin the first step at any time. Equipment and software is vital to an operation, and we understand that there is no time to waste when it comes to getting you back up and running again.
Axis Engineering Group has provided peace of mind to manufacturing plants since 1998. If you are looking for 24/7 emergency service for your changing business landscape, please call 419.872.2500 or contact us for your complimentary review and analysis.
Take a look at what our customers say about us:
They are always available when we have an issue, even if it's the weekend. That is really important to us. Another positive thing for us is that they are local. We had been using a firm that was a couple hours away and getting them here in a timely manner when we needed them became an issue.
Axis is able to get here when we need them. Some of the other local companies that we've used didn't take the time to learn the plant. They wanted to come in, bang out a job really quick and leave.
We were looking for someone who, when we call, understood what we were talking about because they took the time to be out here and learn. To me, there is a lot of value in understanding what a customer's needs are and what they're trying to accomplish, it makes the relationship smoother.
I don't have to explain things multiple times. It means a great deal that they took the time to learn our facility, equipment and employees.
We were so happy and excited about Axis' service that we decided to engage with them on an ongoing service contract.
We're been working with Axis for about four years and increasingly have been giving them more and more work as they continue to hit home runs with whatever we need them to do. Their level of responsiveness is great and I really appreciate their transparency, as well.
They are very good at communicating what they're doing, how they're doing it and why they're doing it. You don't see that often. Their proposals are line-itemed out and very detailed, so we know where every dollar is going. Being able to rely on Axis on a day-to-day basis takes a huge weight off my shoulders. When I have 5, 6 or 7 problems occurring at the same time, it's nice to be able to call Axis, have them come quickly and focus on a couple of those problems. That alleviates a lot of stress for me.
Axis' primary concern is making sure our needs are met. They are willing to be out here at any time when we give them a call.
Others may take up to 24 hours to get out here after we place a call. We can't wait that long and Axis understands that.
What does Axis mean to me? They are my security blanket. They give me a warm, fuzzy feeling. They give me peace of mind and are reliable.
When all hell is breaking loose, there's not a whole lot of time for emotion. Axis gets here and gets the job done.
Axis is very easy to work with. There is not a lot of bureaucracy. Service has been great; they're here when they say they will be here, which isn't always the case with other firms.
The detailed invoicing is awesome. Overall, it's been a pleasant experience.
Their 'sit and listen' approach was refreshing. They sat quietly and listened, asked questions for clarification. It wasn't a 'sit here and listen to me talk' experience.
They tried very hard to quickly understand the issue or project and come back with relevant options. They are a very caring vendor. Because of their laid-back demeanor, listening skills, caring attitude and approachability they are very well respected by management, operators, staff, etc. Complimentary Evaluation
See what the Axis Approach can do for your facility. Complimentary Evaluation 
 See what the Axis Approach can do for your facility. 
Delivering Manufacturing Peace of Mind ™